Dr. Subila K. B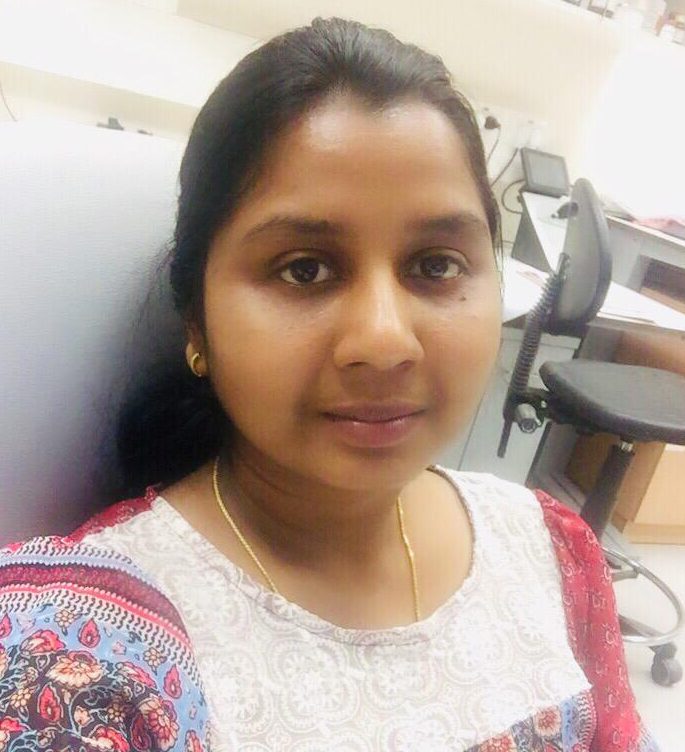 Assistant Professor (Inorganic Chemistry)
School of Chemical Sciences
Email: subilakb@gmail.com, subila@mgu.ac.in
Area of Research
Broad research interest: Material science, Defect tolerant materials towards Energy Applications, Semiconductor Photophysics, Photocatalysis, and Photovoltaics.
Specific area:
Design and explore new materials for harvesting solar energy
Investigation of photophysical properties at semiconductor-semiconductor and metal-semiconductor heterojunctions
Metal-Perovskite Hybrid nanocrystals photovoltaic applications
Conjugation of perovskite nanocrystals with polymers towards improving the stability as well as the efficiency of Perovskite solar cells
Education
Post-Doctoral Research
Ben Gurion University Negev, Beer Sheva, Israel (2020-2022)
University of Notre Dame Research Indiana, USA (2015-2017
Ph.D. – Indian Institute of Science (Chemistry) Education and Research Thiruvananthapuram, (IISER) India (2009-2015)
MSc. (Applied Chemistry) with University First Rank – Calicut University Campus, University of Calicut, Malappuram, India (2006-2008)
BSc. (Chemistry) – Vimala College, Thrissur, University of Calicut, Malappuram, India (2003-2006)
Research Experience
Post-doctoral research scholar (Krietman post-doctoral fellowship), Artificial photosynthesis Lab, Department of chemical engineering, Ben Gurion University of Negev, Israel, November 2020-2022
Post-doctoral Research Scholar at Radiation Lab, Department of Chemistry and Biochemistry, University of Notre Dame, Indian USA during November 2015- 2017,
Visiting Research Scholar at Applied Functional Polymers Division Laboratory, University of Bayreuth, Germany (Advisor: Prof. Mukundan Thelakkat) under DST-European Commission Project No. INT/IRMC/EC-SOLAR/LARGECELLS:1/261936/2010 during June 01- July 31, 2012, and June 15 – August 15, 2014)
Research Scholar (UGC-JRF) at the School of Chemistry, Indian Institute of Science Education and Research Thiruvananthapuram (IISER-TVM), Kerala India during 2009 – September 2015.
Teaching Experiences
June 2019 – till to date: School of Chemical Sciences, Mahatma Gandhi University, Kottayam, Teaching
Theoretical spectroscopy
Coordination chemistry
Advanced Coordination chemistry
November 2017 – May 2019: Assistant Professor at Dept. of Chemistry, Kodungallur Kunjikuttan Thampuran Memorial (K.K.T.M) Government College, Pullout, Thrissur (Dept. of Collegiate Education, Government of Kerala)
March 2014 -June 2014: Assistant Professor at Dept. of Polymer Chemistry, Attingal Govt. College, Thiruvananthapuram. (Dept. of Collegiate Education, Government of Kerala)
List of Publications
(i) Subila K. B., Kishore KG, Shivaprasad SM, George Thomas K "Luminescence Properties of CdSe Quantum Dots: Role of Crystal Structure and Surface Composition" J. Phys. Chem. Lett., 4, 2774–2779 (2013). (This work has been highlighted by George C Schatz in "Physical chemistry India" J. Phys. Chem. A, 2017, 121 (26), pp 4843–4849)
(ii) Subila K. B., Sandeep K, Elizabeth Mariam Thomas, Jay Ghatak, Shivaprasad SM, and K. George Thomas, " CdSe−CdTe Heterojunction Nanorods: Role of CdTe Segment in Modulating the Charge Transfer Processes", ACS Omega 2017, 2, 5150−5158
(iii) Subila K. Balakrishnan, Prashant V Kamat "Au–CsPbBr3 Hybrid Architecture: Anchoring Gold Nanoparticles on Cubic Perovskite Nanocrystals" ACS Energy Lett., 2 (1), 88–93 (2017)
(iv) Subila K. Balakrishnan, Prashant V Kamat "Ligand Assisted Transformation of Cubic CsPbBr3 Nanocrystals into Two-Dimensional CsPb2Br5 Nanosheets" Chem. Mater., 2018, 30 (1), pp 74–78
(v) Weixin Huang, Yuanxing Wang, Subila K. Balakrishnan*, "Controllable transformation between 3D and 2D perovskites through cation exchange (Accepted in Chem. Commun., 2018, Advance Article)